Article contributed by Benjamin Kerensa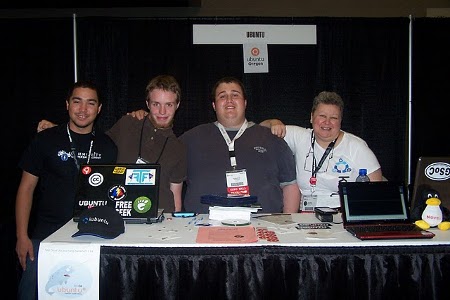 I have been contributing to Ubuntu for nearly 18 months mostly on IRC, Forums and also by working with a local non-profit that distributes Ubuntu computers. For the longest time I didn't really consider whether Ubuntu had any local events then one day I got curious and stumbled upon the LoCo Wiki for Oregon.
I was notably disappointed to find out that my LoCo had essentially went dormant and I sent quite a few e-mails out and honestly their was no leadership to be found. In July I happened to be attending OSCON when the current listed Team Lead reached out and told me he needed someone to run the Ubuntu Booth so I volunteered. That weekend I was also attending Community Leadership Summit where I got to meet the person who was the interim Team Lead and who ended up asking me to take over things.
I will say the booth at OSCON was not what I would consider to be ideal although we pulled things together with the resources we had and luckily Ubuntu Washington's LoCo also was there to help.
Once I took the new role as Team Lead my immediate goal was to begin getting the Ubuntu Oregon active again and I knew it wouldn't be a easy task by any means. Over the last few months our IRC channel has grown from 3-4 concurrent users to 26+ with quite a decent amount of chatter and we are more active then ever and still working to become more active.
I'm sure there are other LoCos that have went dormant for one reason or another and I want to encourage Ubuntu Users to take the initiative to try and kick start their LoCo because in my example the results were excellent and have started to pull other LoCo members out of the woodworks who had give up hope on a active LoCo Team.
So if your LoCo Team is in a similar state don't fret just be motivated and persistent and remember that your efforts are a contribution to the Ubuntu Community at large and locally.
If any LoCo ever needs any advice, feedback or has questions feel free to ping my nick (bkerensa) on IRC.